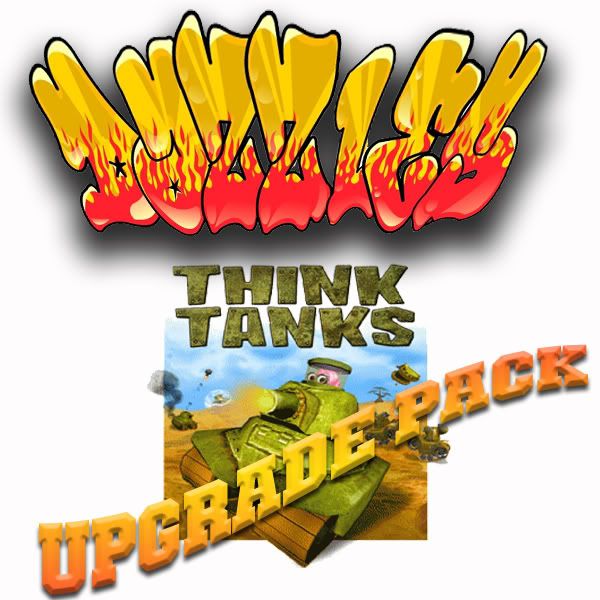 This is an ALL IN ONE PREINSTALLED upgrade for ThinkTanks
This pack is created from my own game installation and includes:
Original ThinkTanks files
Mr Phobiks Client Receive & Server Sounds
Mr Phobik's Master Server – new for 2011
Napalms X-Pack 4 and X-Pack updates
Many additional skies, objects and extra files
RX's Complete Official TT Mod Pack
RX's Mod Pack Updates (11/23/08)
PSL League Maps
Over 950 ThinkTank Maps!!!
Battle Royale
CTF Recreation
Instant Action Conversion
RollerBall Series 1
RollerBall Series 2
King of the Hill
Gladiator
Bonus Skins
Complete DZ skies pack
Roo's Skies
Art Crazy's Never Stop Download Bar
Hot Keys
3x Radar
Zoom Radar
Show hide player GUI
Wingman Script
IP Joiner v3.1
Customizable chat
Ignore Script
Packet Rate Tweaks
Packet rate tweaks for Windows XP and Mac are automatic. For Windows Vista manual instructions are included in the pack
Thanks to LGM for helping port the Mac version
If you have a fresh install of ThinkTanks and want to get up and running quickly or just want to be able to get into all the modded servers then this upgrade pack is just what you need, it contains many extras objects, scripts and skins all preinstalled and ready to go. Inside the pack is an installation guide and instructions on what each script does and how to use the them, please make sure you read this document before installing any of the files.
Click the image (2 computers) below to download
Windows and Mac versions available

Upgrade pack updated by Dazzle & LGM February 2013
Download size is approximately 512 megabyte
REMEMBER TO BACK UP YOUR FILES AND MAKE A COPY OF YOUR THINKTANKS GAME BEFORE INSTALLING THIS UPGRADE PACK

MAKING A BACK UP IS ESPECIALLY ESSENTIAL IF YOU HAVE MODS, FILES, TANK SKINS, AND SCRIPTS YOU WANT TO KEEP AS THIS PACK WILL ERASE AND REPLACE YOUR CURRENT GAME

YOU CAN THEN REPLACE YOUR ESSENTIAL FILES AFTER INSTALLING THIS UPGRADE PACK
Should you choose to install these files, you do so at your own risk.
I take no responsibility whatsoever for any problems which may occur as a result of using these files