<strong>Team Battle Mode Season 12

Destroying Tanks since this game was created...</strong>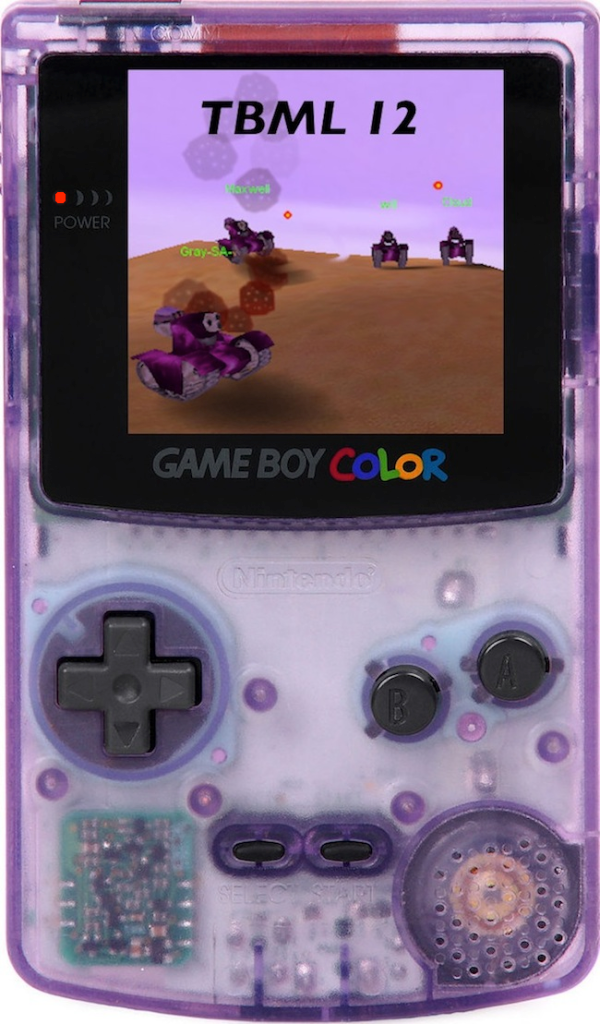 Commissioner:
Cloud
Vice Commissioners:
supratank
Game times are Wednesday evenings at 9:30 EST (6:30 PST)
The season will begin November 9 2011
<strong>Servers!</strong>
Server 1- Phobik
Server 2- Phobik
----------
Backups: CB, Musik, Jerry
__________________________________________
----->>>
TEAM ROSTER
<<<-----

__________________________________________
----->>>
SEASON SCHEDULE
<<<-----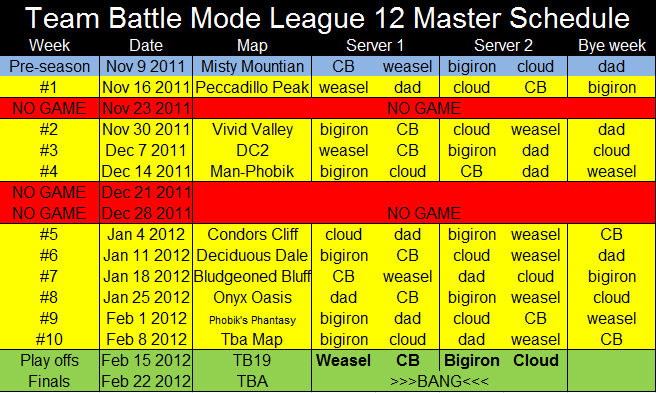 __________________________________________
----->>>
SCORE GRAPH
<<<-----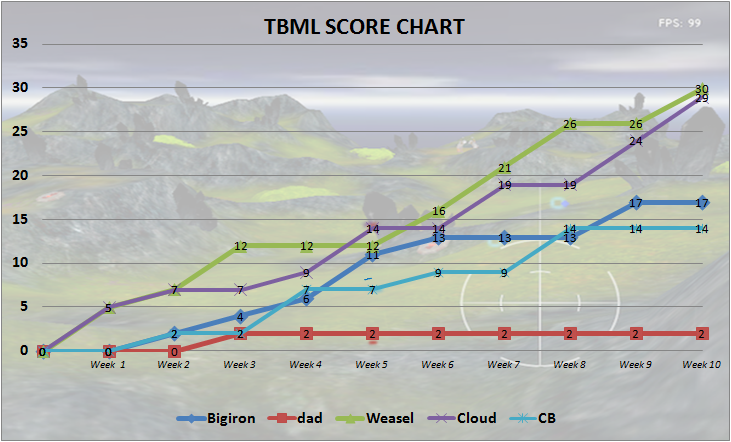 __________________________________________
----->>>
SEASON STATS
<<<-----
Coming Soon!
__________________________________
Official TBML Rules
TEAMS: This is a 4 on 4 season. Each team will be composed of 6 players. Captains are in charge of determining the game roster each week. Pre-game organization will take place by e-mail or in a pre-game warmup server. Players who would like to serve as Captains can volunteer by posting. All teams will be formed via a draft.
LEAGUE MANAGEMENT: The league is managed by captains through a vote from all captains of teams in matters where it is necessary. When a team has co-captains, only one vote per team will be accepted. The League commissioner will serve to moderate and bring agenda items before the captains. Captains may also present items upon discussion with the Commissioner.
GAMES & TIMES: Games are Wednesdays at 9:30 pm Eastern (USA). All servers will be password protected. The Commissioner will communicate the server passwords to team Captains. Teams must gather and be ready to play on time. Having an incomplete team is not a reason to start late. Captains are responsible for communicating the time of play, and ensuring teams are present. Games should start no later than 9:35 PM Eastern. Play will consist of two 15 minute games between teams of five. The second game should begin immediately after the first game, with no delays (unless by prior mutual agreement of both Captains). <strong>Captains must both agree that they are ready to start the match by saying "GAME ON AT RESTART."</strong> When ready, the game will be started by resetting the server (using the "/restart" command) or by letting the timer wind down.
MAPS & SERVERS: Games willl be played on servers provided the league (to be determined). Other players can provide servers if for some reason the previous ones are not available, provided that the hoster is not playing TT on the same computer that is hosting. Maps for the regular season are pre-determined from a list of posted maps. There will be a different map each week, but all games in a given week are played on the same map. If possible, the Captians should Admin the game to facilitate resetting the server, changing colors, etc. One observer per team is allowed if agreed upon by the Team Captains. Observers must change their color to red and must not chat at all during the games. Voice chat during league games is allowed.
LAG / CONNECTION ISSUES: Lag or connection issues should be tested and worked out prior to the start of the game. The two Captains should discuss issues relating to server problems. Players should communicate with their captain if there is a server problem using private or team chat. Once a game has started it must be completed. It may not be stopped mid-game due to lag. In case of a server crash mid-game, the score should be noted. A full 15-minute game can then be continued on another server, but the score from the aborted game will be added to the new score. If this is not possible, then by mutual agreement of the 2 Captains and the Commissioner, the game may be rescheduled.
SCORING: During the regular season, a match consists of two games, and two games only. Match play shall be scored as follows: at the end of each 15-minute game, the team with the higher score shall be awarded two points and the team with the lower score shall be awarded no points. In the case of a tie, both teams shall be awarded one point. (Win = 2 pt, Tie = 1 pt, Loss = 0 pt). In addition, one bonus point will be awarded to a team that wins both games of the match. However, the bonus point will not be awarded if the teams were not even, or if the game was forfeited. A 4 on 4 game can be eligible for the bonus point, but must be mutually agreed upn by both captains (this opportunity will be lost if there is repeated poor attendance by a team). Thus the possible scores for a match are:
* WW = 4 pt + 1 bonus pt = 5 pts
* WT = 3 pt
* WL = 2 pt
* TT = 2 pt
* LT = 1 pt
* LL = 0 pt
Screenshots of the game scores should be posted immediately after the match in the screenshot thread.
ATTENDANCE: If a team shows up with less than 4 players, a 3 on 3 game can be played by mutual agreement (as noted above in Scoring). Both captains must agree to this. The same is true if 5 or 6 players are present.
DISPUTES/CONFLICTS: If a conflict should arise between players/teams, players will notify their Captain to address the conflict within 4 hours of the game. If it cannot be resolved, the issue will be brought to the League Commissioner. If the Commissioner is unable to resolve the issue or is directly involved in the conflict, then the issue will be presented for a majority vote by all team Captains. Beyond 4 hours after the game, the issue is over and no changes will be made.
PLAYER REPLACEMENT/SUBSTITUTION: A draft pool of reserve players will exist to replace players no longer able to play, for whatever reason. The Commissioner will help teams maintain parity by filling vacant team slots, in conjunction and with input from other Captains. Subs may be used from the reserve pool by teams that are short a player.
PLAYOFFS: The top 4 teams will advance into the playoffs to be determined by final league standings. During the playoff matches, the teams cannot tie. Thus a minimum of 2 games are played using the same match scoring system described above. In the event of a tie after the first 2 games (e.g. Tie followed by another Tie, or a Win-Loss followed by Loss-Win) then a 3rd game is played. Additional games are played until a team has more points than the other. For example, if Team A wins Game 1 and Game 2 is a Tie, Team A wins the match (final score of 3 to 1).
__________________________________________
TBML 12 Players Map Pack
All of the season maps are available in the download below. Once downloaded extract the contents of the zip file and copy the 10 terrain files, then go to your missions folder and paste the maps in - if you are asked to replace any items just select YES to all. To find the missions folder go to your Thinktanks game folder on your hard drive and then go to game/data/missions. If you have any problems doing this please email or pm Dazzle.
Coming soon!
__________________________________________
<strong>IMPORTANT FOR ALL PLAYERS!</strong>
In Team Battle Mode League, we use wide open port settings to minimize lag. This is an easy modifcation you can do to your TT application that will increase the maximum speed that data can flow in and out of your comuter to the server. NUTS! and several other folks worked very hard to optimize these settings. If you haven't done so already, please follow this brief tutorial:
http://nutstank.googlepages.com/changingthepref.cs
It is imperative that all players do this!
----->>>
<strong>MAP SUMMARY</strong>
<<<-----
Coming Soon!