All right guys, here is Week 4 (4/13) Server Assignments: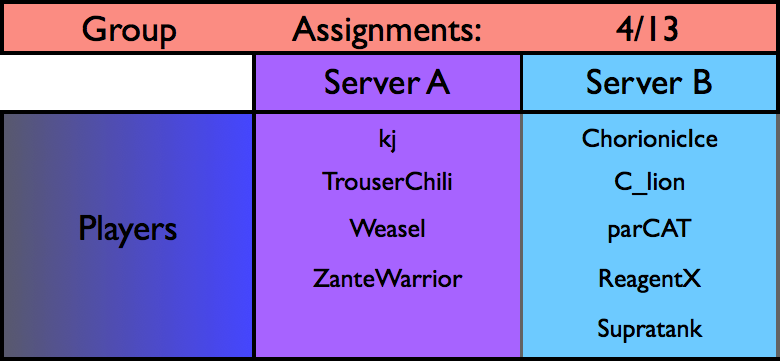 I would like to remind you all that in the rules section IN GAME CONFLICT, it states, "If there is a conflict between players, please bring it to the attention of the Commissioner or the admin of the server. We're all here to have FUN, not to get caught up in drama or egos. Please keep that in mind, players." Since the admin left, someone should have come and got me in Server A. I just want to make that known, since I guess no one actually read that...
Anyways, as of right now, the top 5 players are kj, myself, Weasel, Zante and supra. This last week could determine who makes it.
I would like to take time to mention that in the case there is a tie for the last spot in the Top 5 duel, whoever got the points first will get the spot. For example, if Rx and/or C_lion get first place in their game this week, they will receive 4 points, which brings them to 6. I have 6 points, so if I lose my game(s) this week, the 3 of us all have 6. Since I got my 6 points first, I would take the last spot in the Top 5 duel. Same thing happens if Trouser reaches 6 points with me or 8 points with Zante.
Can't wait for this final battle!!