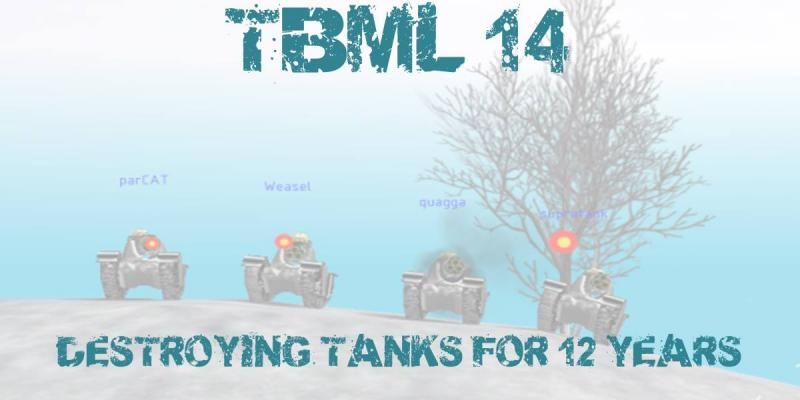 Hello TBMers!
We are serious about a TBML league. Sups and I have decided to start a TBML! It's been quite some time since we had a league. I know several of us have craved some good old games. Thinktanks is basically dead, but it would be nice if we could meet up once a week for some good games. What a great time for a league! Yes, we are all rusty, but it will be fun. We are hoping to have a 4 on 4 season with five people on each team. That would mean we will need at least 20 players to have a successful league. There will be 6 season games (possibly 9 if people want). 1 preseason + 6 season + 1 playoffs + 1 finals = 9 TBML games.
We are still working on the schedule, but games will start in
mid to late march
. The time and day for games is
Monday @ 9:30 PM EST
. Dazzle is hosting on his dedicated servers on the US East Coast.
I know you may think this won't happen, but I am dedicated to making this happen. Even if you have not played Thinktanks in ages, I will help you get thinktanks running again and we would be happy if you joined TBML 14.
We look forward to you signing up and playing. Please post in this thread or email me, cloudthinktanks AT hotmail.com
Thanks!
Commissioners
Supra
Cloud
Players (33)
Cloud
Supra
Blind Cide
Parcat
Hollywood
Maxwell
Tamara
dad
Jerry
Dar
Hamncheese
Gray
Banshee
Get Some
Great Goose
Cadc
CB
abtreavis
Player 36
xsquared
dash
Sheepy
KJ
Bertha
niKo
quagga
pip5528
c2green
zantewarrior
Bolo
Mr Phobik
bigiron
tankerbel
(IF WE HAVE 5 OR 6 TEAMS)
3/30/2015 – TEAM PICKS
4/6/2015 – Pre-Season
4/13/2015 – Game 1
4/20/2015 – Game 2
4/27/2015 – Game 3
5/4/2015 – Game 4
5/11/2015 – Game 5
5/18/2015 – Game 6
5/25/2015 - Game 7
6/1/2015 - Game 8
6/8/2015 - Play offs
6/15/2015 - Finals
(IF WE HAVE 4 TEAMS)
3/30/2015 – TEAM PICKS
4/6/2015 – Pre-Season
4/13/2015 – Game 1
4/20/2015 – Game 2
4/27/2015 – Game 3
5/4/2015 – Game 4
5/11/2015 – Game 5
5/18/2015 – Game 6
5/25/2015 - Play offs
6/1/2015 - Finals