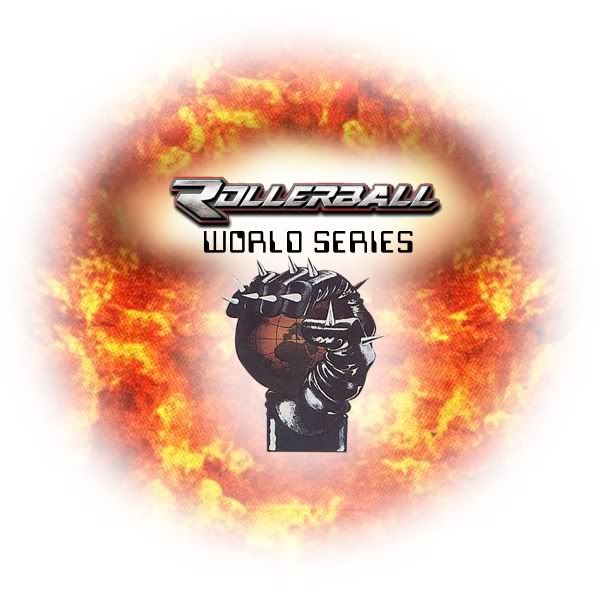 In the year 2085 all the world problems have been quelled by the establishment of huge corporations which control the world's resources. The worldwide masses are pacified and violence is outlawed across the globe. In order to stem violent behavior the corporations needed a way for violence and aggression to be diverted away from everyday life, so they created the ultra-violent game of RollerBall and thus organised the RollerBall World Series. This strategic game. In which players are frequently killed, is a combination of military war games, motor racing, rally cross, and gladiatorial combat. The creation of RollerBall by the corporations was a masterstroke in uniting the world and channeling violence and aggression in one direction, that of the opposing RollerBall team.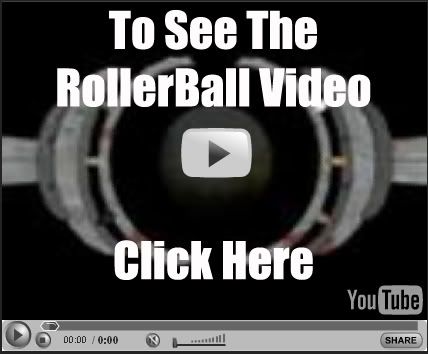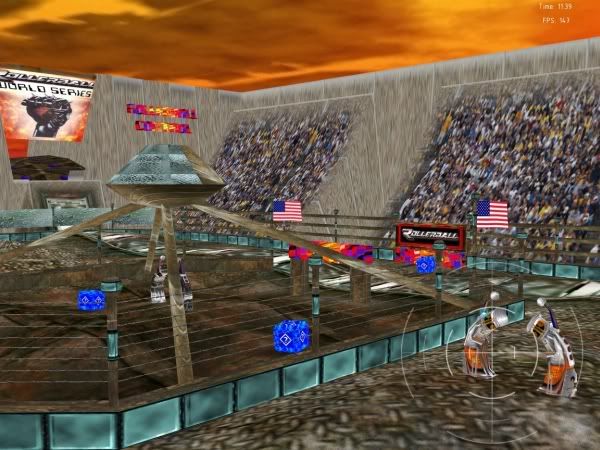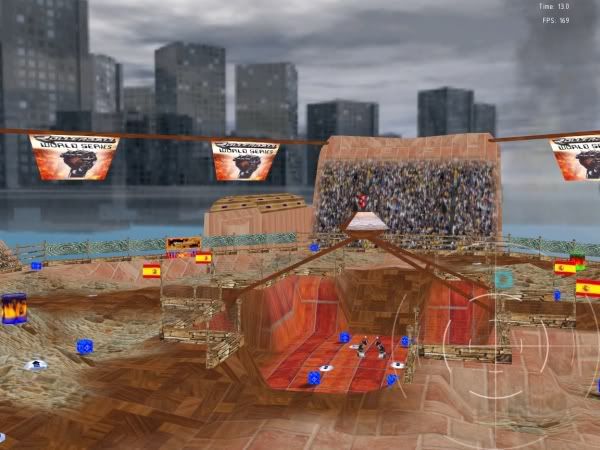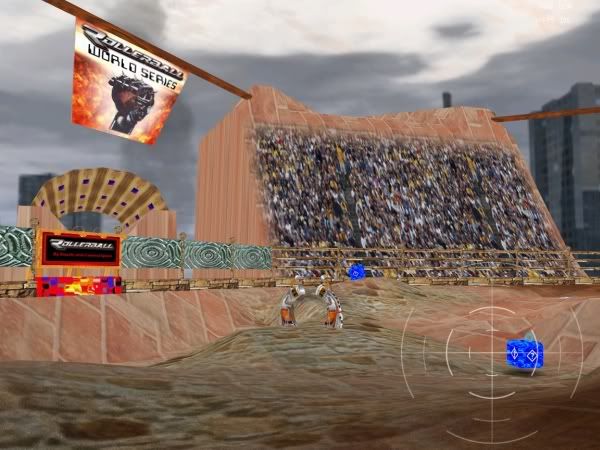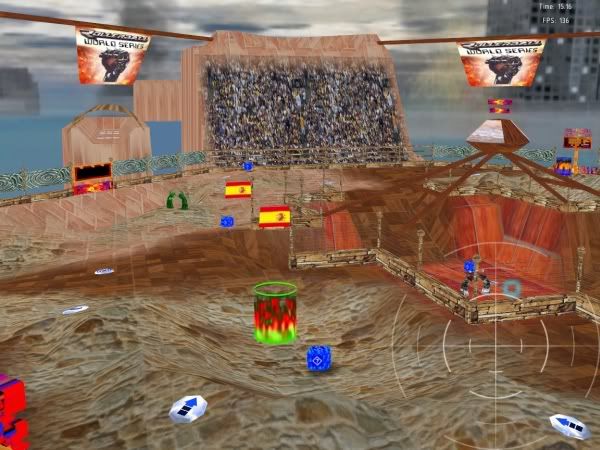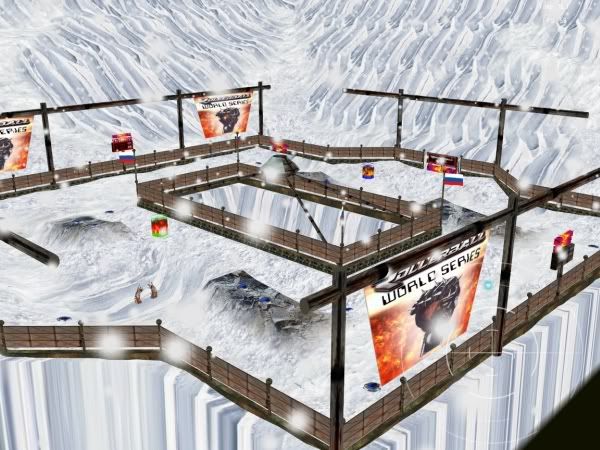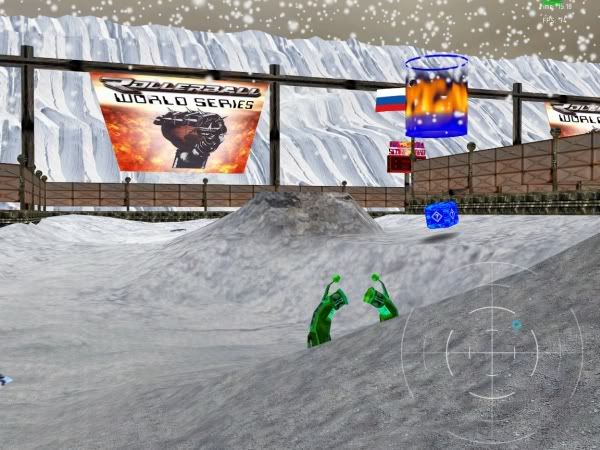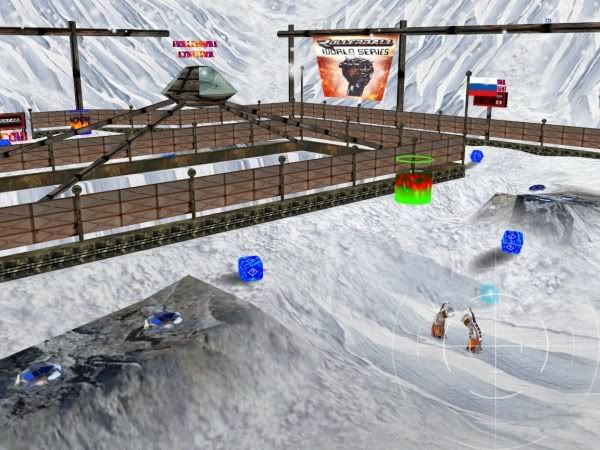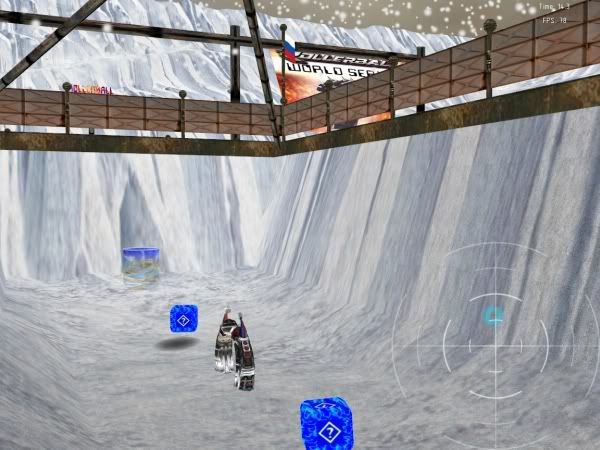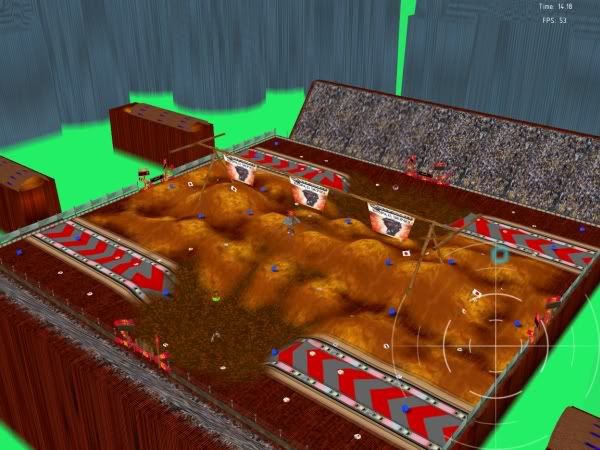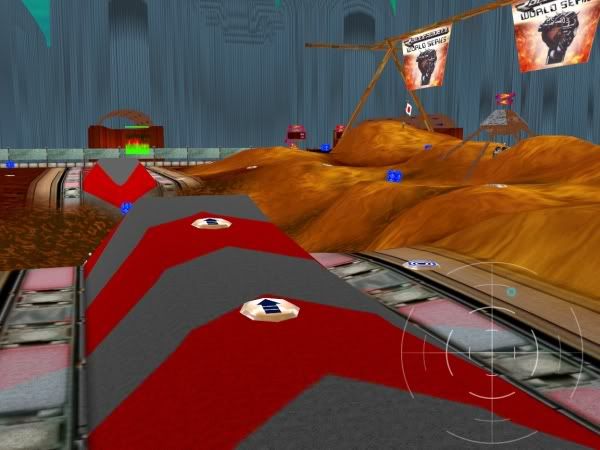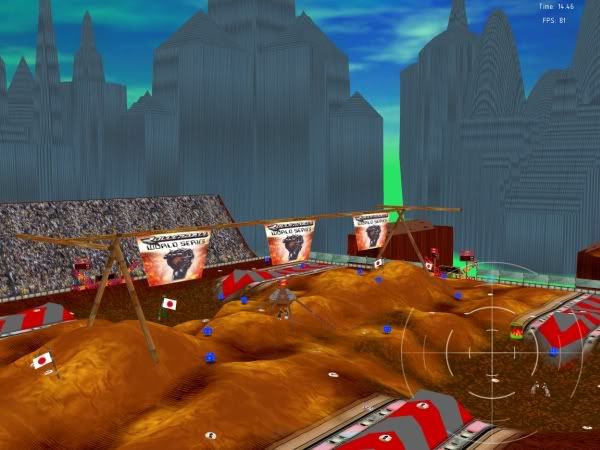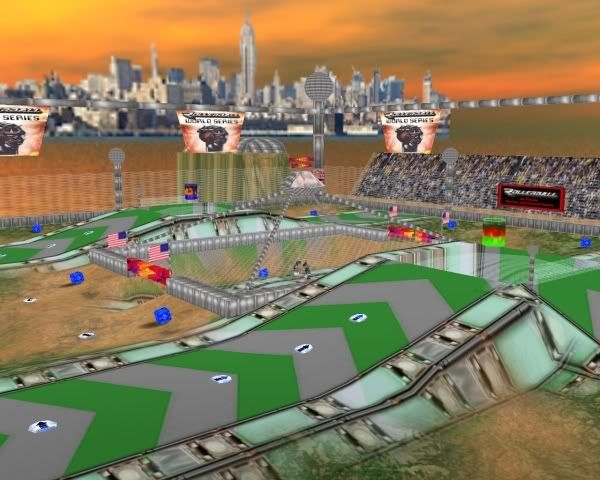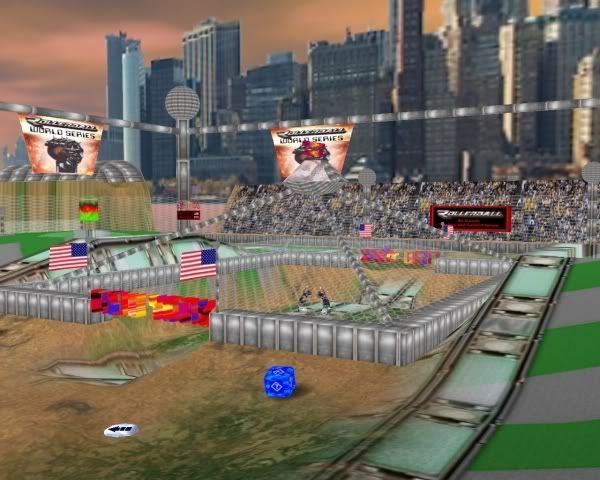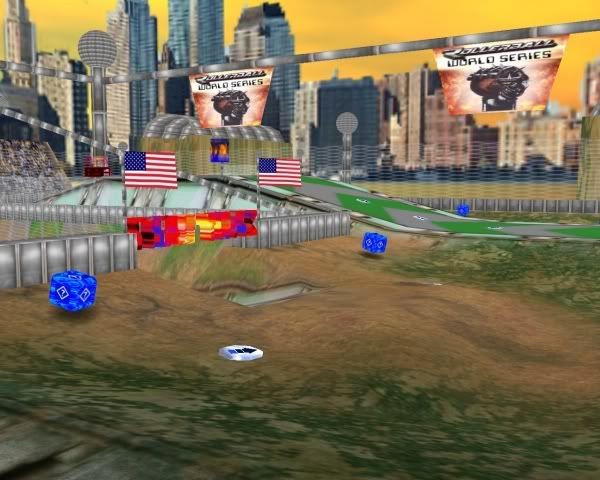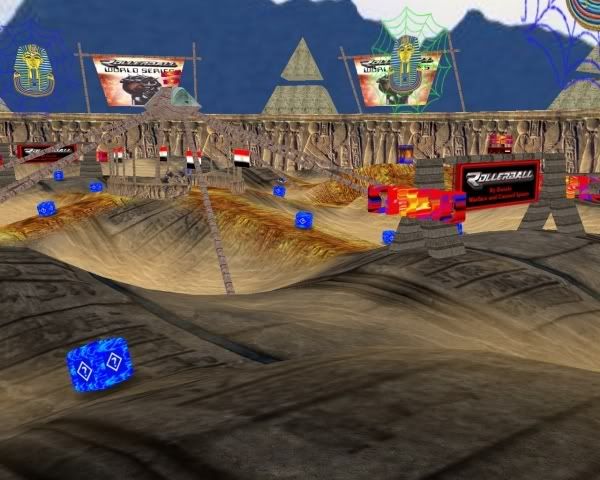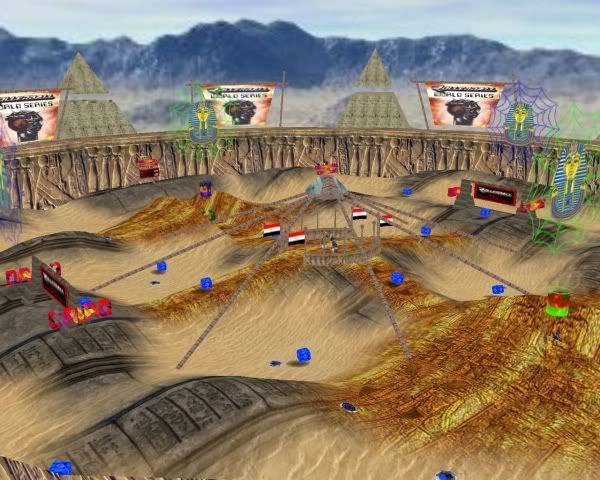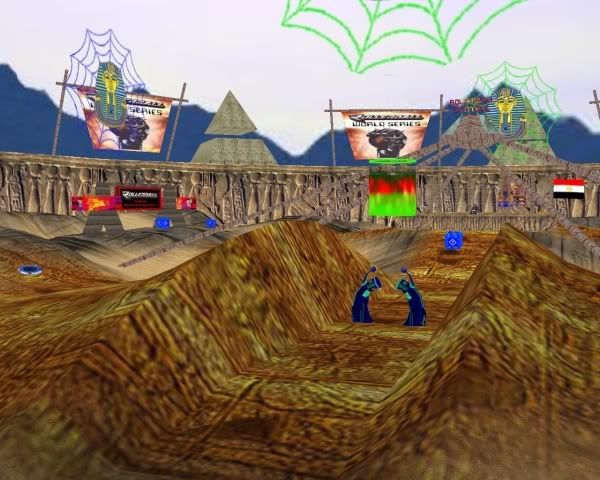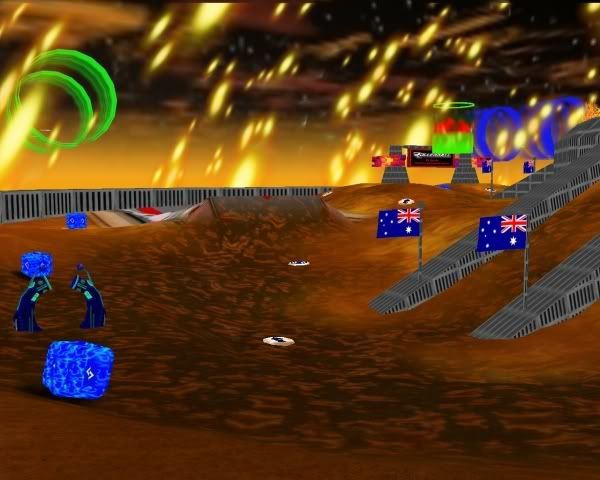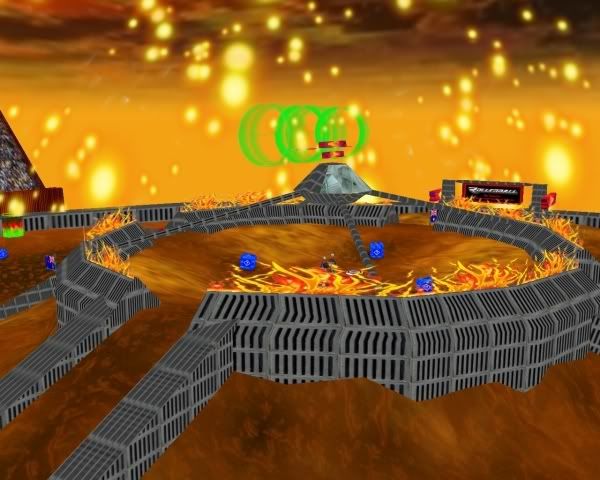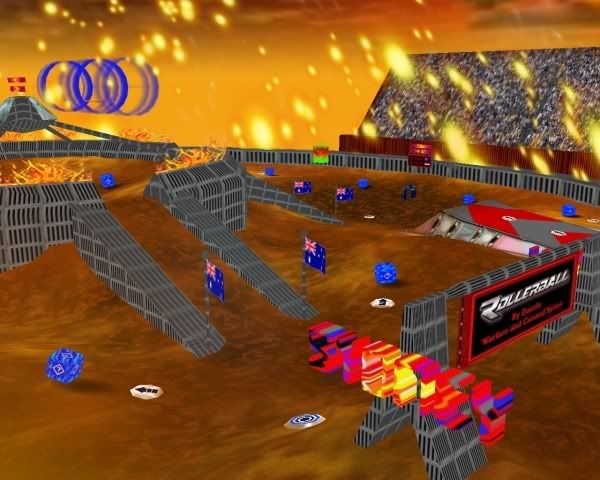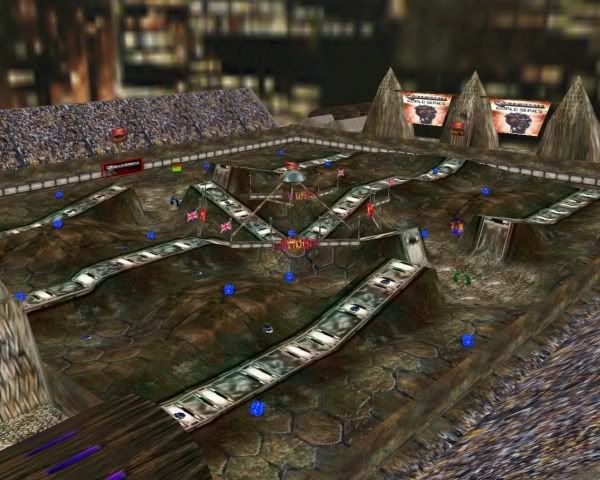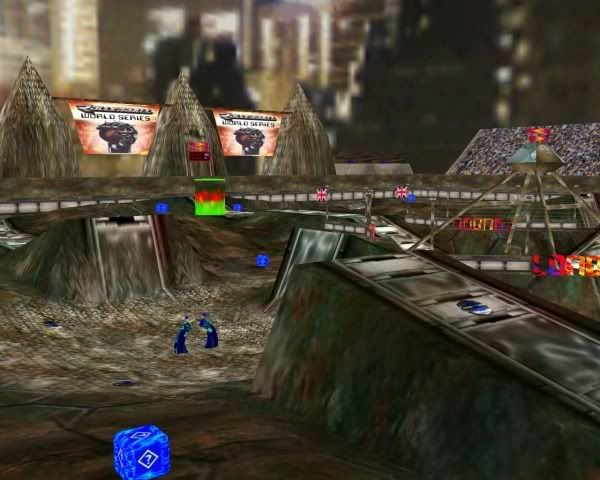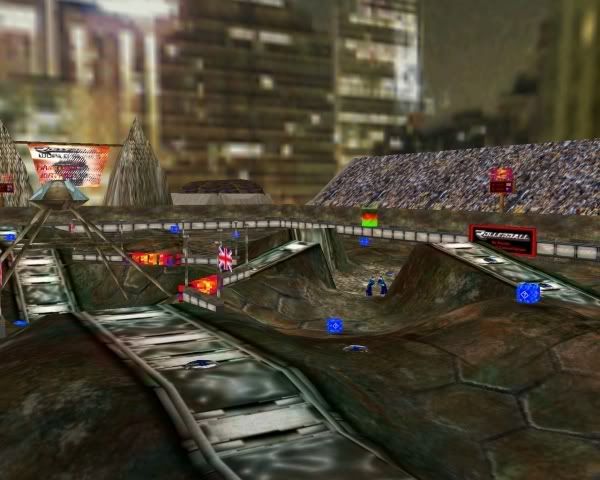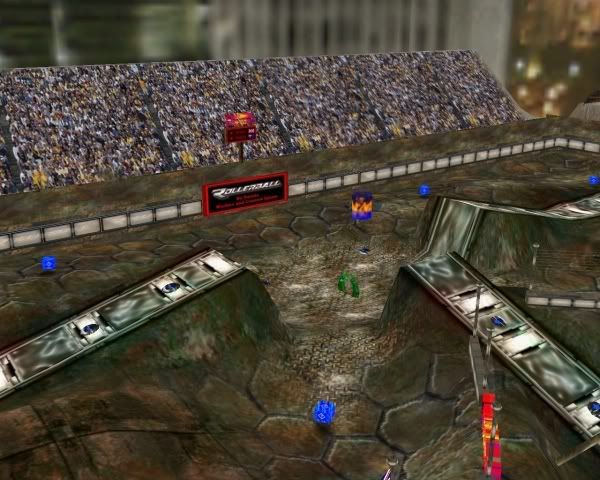 About RollerBall
RollerBall is a completely new gametype developed by Dazzle and Canned Splam. It has taken over 7 months to create and test all the aspects of RollerBall and we hope you will enjoy the gameplay together with the visual aspects of our game. RollerBall uses hardly any standard ThinkTanks objects, sounds, etc - so in order for you to play RollerBall you will need to download and install the RollerBall preload. Inside this preload are all the files you will need to play the game together with detailed instructions (for PC and mac) on how to install the files onto your computer and a guide on how to actually play RollerBall, plus some custom RollerBall TT background skins.
Series 1 was originally released in August 2006 with the series 2 maps being released in November 2007. Due to some technical issues the game script was rewritten by Warfare over the summer of 2007.
Comment from Canned Splam (SA) August 2006
It was a lot of hard work, Dazzle and I are crying right now. It was about one year ago that I got an email for dazzle. At first I thought he was a crazy UK looney. But I accepted, with no intention of every scripting "RollerBall." And now, today, we are actually releasing it! It is sooo much more than I ever dreamed. I would right a whole big story but I'm too excited, I just wanna play!!!!!
Comment from Dazzle (UF) August 2006
Well it was an ambitious project from the start, and if I'd known what we were starting I would probably not have... But we tackled this project head on and developed the game from a fairly simple idea into something that we are both extremely proud of. Along the road I have had to learn many new skills including 3D moddelling and animation - very interesting but at some points I could have smashed the screen, lmao. Oh and if I see a special.cs again I am gonna go mental. But to be honest although some parts were extremely frustrating on the whole I have loved making this game and I really hope you guys in TT land enjoy it as much as we have making it. And to my partner Mr Canned Splam I would like to say a huge thanks as this thing would not exist without him, he is the one who brought RollerBall to life.
Comment from Dazzle (UF) November 2007
The second series of maps have taken ages to make mainly because they were even more complicated than the series 1 maps. I think I finished the first one (London) in February 07 but it has taken until November 07 to get them all ready and tested. Its always nice to push TT and see what is possible so I hope you like the 4 new RollerBall maps as they have been a huge amount of work, but as you will see in the screenies it was worth the effort. A special thanks to Warfare for rewriting the script, it runs better than ever and most definitely enhances the gameplay. So I hope you enjoy playing on the new maps as much as I have enjoyed making them.



Download the RollerBall preload from here
If you are a new ThinkTanks player you should download
MY THINKTANKS UPGRADE PACK
which includes the files you need to play RollerBall together with all the objects and maps you need to play in all the modded servers including King of the Hill, Gladiator, and CTF Recreation. So if you have had trouble joining servers and find you are looking at a blue bar that is full but you still cant get into the game the upgrade pack is what you need. If you just want to install RollerBall download and install the preload below.
*** IMPORTANT PLEASE READ CAREFULLY *** wrote:

When you install the preload please take your time and follow the instructions carefully, this preload has been extensively tested and works 100%. If you are having a problem please check your install in the first instance as it is probably something you have done wrong. Otherwise post your problem in the RollerBall help thread (link at the bottom of this page)






Complete RollerBall - Series 1 & 2:

RollerBall by Dazzle,Warfare and Canned Splam




*** IMPORTANT PLEASE READ CAREFULLY *** wrote:

Only Install RollerBall Series 2 Updates if you have successfully previously installed RollerBall Series 1. The files in this preload are updates to Series 1 and will NOT WORK on their own. If you are unsure or have not installed RollerBall before, download and install the complete RollerBall Series 1 & 2 package above.






RollerBall Series 2:

RollerBall Series 2 Updates




Access the RollerBall Website here:

RollerBall Website



Find out how to play RollerBall (Adobe PDF 4 meg D/L):

RollerBall Play Guide











Brand new RollerBall gametype script

Specially created RollerBall GUI Admin script

8 specially created RollerBall arena style maps - Houston, Madrid, Moscow Tokyo

125 new static dts objects (including walls, fences, place nemes, posts, and banners)

26 new animated dts objects (including power ups, control tower, flags, rollerballs, and billboards)

30 new terrains

4 new ammo gate skins

4 new tanks skins

4 new arrow and boost pad skins

5 new scrumgoal skins

36 new sounds (game sounds, explosions, power up vox, teleport, boost arrow, jump pad)

8 new weapons

11 new projectiles

11 new explosions

12 new rectiles

11 new emitters









Original gametype idea---------- Rooster

Gametype development ---------- Dazzle & Canned Splam

All RollerBall gametype scripting ---------- Canned Splam

New RollerBall gametype scripting ---------- Warfare (July 2007)

Mission file scripting ---------- Dazzle & Canned Splam

Static dts object creation ---------- Dazzle

Animated dts object creation ---------- Dazzle

Torque map creation ---------- Dazzle

Skins for gates, goals and tanks ---------- Dr Sawbones

Terrain skins ---------- Dr Sawbones & Dazzle

Skins for dts objects ---------- Dr Sawbones & Dazzle

Weapons ---------- Dazzle

Emitters ---------- Dazzle & Big Show

Sounds ---------- Dazzle

Voice of RollerBall ---------- Feathers McGraw

RollerBall GUI Admin script ---------- Canned Splam & Warfare

Admin script GUI skins ---------- GQ

RollerBall Custom backgrounds ---------- GQ





Special thanks to all the testers of RollerBall over the last few months including LONEWOLF(UF), (UF)ChorinicIce, GQ-Shooter(UF), DrSawbones(UF), w00t, CrapBlaster, Feathers McGraw(UF) and others.

Also thanks to 56k Lag Man for giving us a point in the right direction







center][/center]